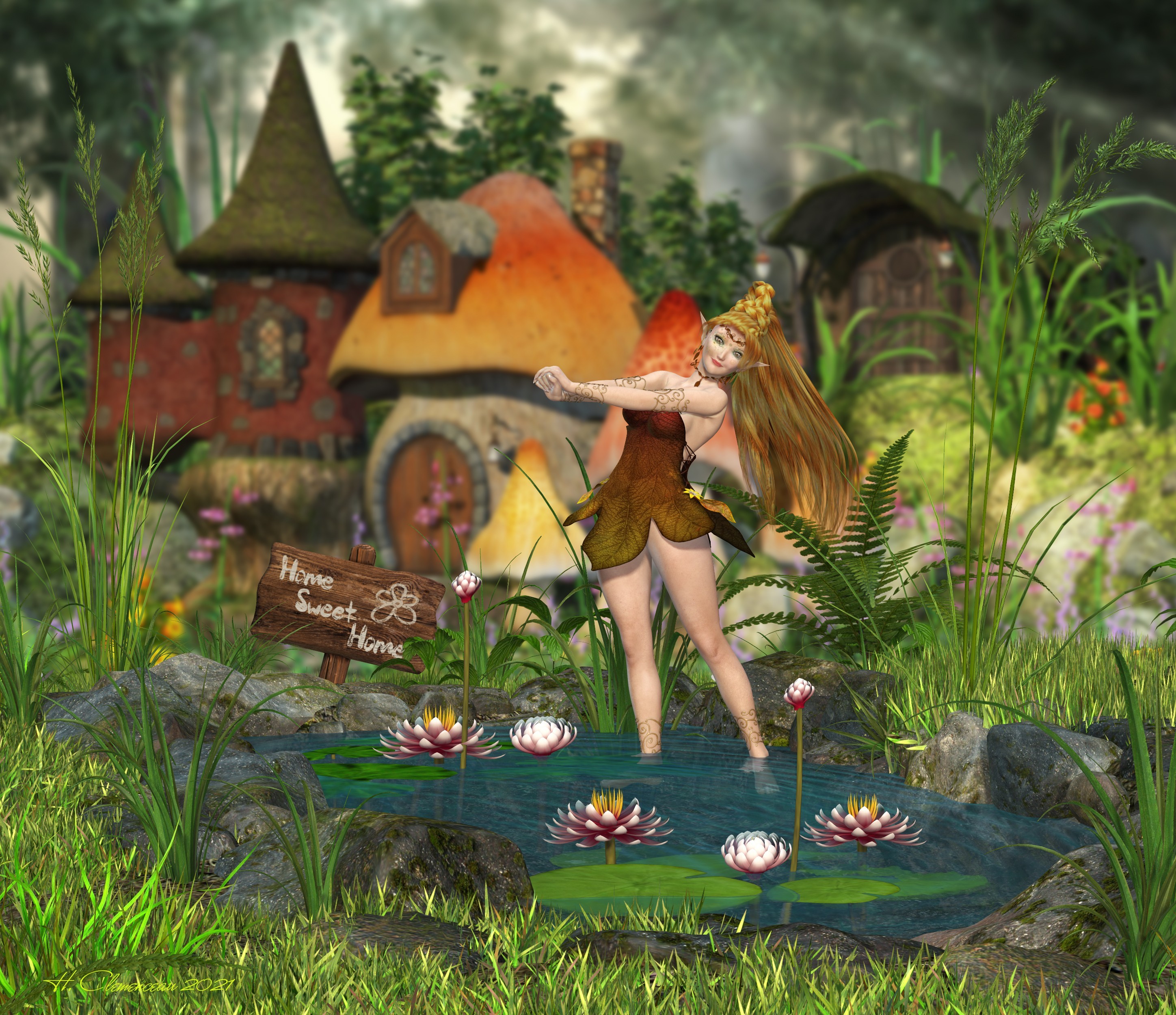 As a pioneer in the creation of digital humans, Poser has attracted a wide variety of creators, thanks to its versatility, ease of use, and set of powerful features. Clemenceau is a Poser veteran
In this interview Clemenceau shares his background, love of creating, and why he chooses Poser as his tool for self-expression. And check out the slideshow (see above) which features selections of Clemenceau's Poser scenes.
Interview with Clemenceau
Poser software is a pioneer in the creation of digital humans. Its versatility and ease of use brought human creation to the masses almost 30 years ago and has attracted a wide variety of creators, from different backgrounds. Clemenceau is one of such creators. Her art spans various genres, from surrealism to fantasy, and her gallery can transport you to different kinds of realms. This time we would like to introduce you to Clemenceau's world.
Can you introduce yourself?
I'm Heather, and I've spent the last few years of my professional career as a digital marketer in the wholesale chemicals industry. I use the Adobe Creative Suite every day for work, but it's quite a different type of work compared to what I do as a hobby. For work, I mostly create technical documents, packing for retail, labels, and magazine creatives. For several decades I've been involved with horses and horse rescue, so I do like to create art featuring horses.
How and when did you get involved in computer graphics and Poser?
I became involved with digital art back around 2003, when I first became interested in screensaver art. I loved the surrealism of Mike Bonnell's Bryce art, so for quite a while I created the typical "reflective spheres on water" scenes. Eventually, I had a need to work with figures, and that's how I discovered Poser 4, which at the time featured Victoria and Michael 2.0. I then graduated to Poser 7, 10, 11, and now 12
What are your favorite Poser features and why? What tools do you find yourself using the most?
The best feature of Poser is the price point – you can create such beautiful imagery at a very reasonable starting price. Compared with competitors' products, I have found Poser's learning curve somewhat easier to manage. There are also tons of resources available in many different marketplaces. I love the ability to do GPU renders – I recently bought a new computer with an NVIDIA accelerator, and appreciate the faster renders. It's great that La Femme is the new default female figure for Poser. I also like using the dynamics and find that I can easily do most dynamics simulations without thinking about it much, but am still learning to use dynamics with multiple layers of clothing. I plan to start learning to use the dynamic wind force capabilities next.
What workflow do you follow when working on a project? How does the creative process work?
I will either spot something in my Runtime that I've forgotten about and be suddenly keen to create some art around it, or I will have gotten an idea from a movie or book to realize a character or scene. In the second case, I will usually let it "germinate" for a while, looking for things to use in my Runtime, or spotting assets in marketplaces that I think would be good for the project. As products are on sale, or I have enough Render Rewards to buy them, I'll acquire them over time until I have everything I need. I don't sketch anything out, although probably this is a beneficial idea, but I start with my main background elements, test render them a few times in Firefly or Superfly and then gradually add elements, props, and characters to them, and keep test rendering with different types of lighting. At this point I might start changing a lot of the materials around and tweaking the poses and placement of elements, and fixing any "poke-through" of body parts through clothing. Lastly, I'll might render some atmosphere or depth of field. Once I'm happy with the final render, I'll start adding things in post, like atmospheric stuff, PNG elements, drop shadows if needed, and adjustment layers.
Where do you get your inspiration?
I get most of my inspiration from movies and TV shows, and quite a bit from literary and fantasy figures. For example, some of my inspirations come from Game of Thrones, and popular Netflix shows. I also get inspired by a particular character or piece of clothing/accessory, and like to create a whole scene surrounding that item. I think I've collected practically every Poser castle. Most of the time I'm not aiming for hyper-realism or real-life scenarios - other times I want to make a social commentary about current events and cultural challenges. Occasionally I like to delve into the humorous aspects of horse ownership, and for these projects, the HiveWire toon horse perfectly fits the bill. I like to draw on my own challenges with horse ownership and scenarios experienced by my horse-y friends. Faeries, mermaids, mythology, sci-fi, Hallowe'en and zombie themes also feature predominantly in my artwork. I have so many more creatures and themes that I haven't yet had the opportunity to work with.
What software applications do you use (Photoshop, etc.) and how you combine them to make your art?
Aside from Poser, I use Photomatix (HDR software) and Photoshop for post-processing or assembling layers of scenes rendered at different times. I also use DAZ to export FBX formats for use in Poser. I think many people don't realize that Poser users have more options than merely the Poser native formatted products. If I need to get a prop out of a DAZ format and into Poser, I'll load it in DAZ, and then export in FBX format, then import into Poser. I'll often render background scenes separately and split my work into background/foreground, and characters, which I sometimes add in last. Even if I render an entire scene at once, I inevitably find that I use Photoshop to tweak the saturation or add adjustment layers for human characters.
Do you have a dream project you would like to make some day?
I do have a project I'm keen to work on in the future – I want to create an entire scene with a female fantasy fox-character on horseback who is rescuing a fox from the hunt and hounds. This is probably the most complicated project I have yet to tackle, because the scene requires multiple horses and riders, all with proper riding tack, chasing a rider with multiple hound dogs over an English country terrain. To make shorter work of this project, I need to get some experience with Poser instancing to reproduce lots of dogs and horses/riders.
Do you have a wishlist of things where you would like to see Poser improve?
I haven't even scratched the surface of Poser – I'm still discovering new capabilities every week. But I would love for Poser to add in the capability to pause and save a partially completed render, and then resume rendering. I wish there were easier ways to import DAZ format products into Poser, especially posed characters and scenes where DAZ instancing was used to create plants in a complex scene. It would be great if there was a "universal" set of characters that could be easily imported into Poser, or that Poser had an easier way to import DAZ human characters. I'm not sure if Poser or any marketplaces already do this, but I would hope there could be some "incentivizing" for creators to produce Poser formats while they produce products for DAZ. A lot of other features I would like to see have already been added to Poser 13, and I will eventually upgrade to that version or perhaps a newer one.
How would you convince someone new to 3D graphics to try out Poser?
I would suggest to them that I have found most functions in Poser to fairly intuitive and that there are many tutorials available to learn new skills when you need something extra. I still consider Poser to be one of the earliest adopters and de-facto character rendering software. I think that Bondware is a good place for Poser to have landed after being bounced around for many years, and hope it stays there as I think Bondware will give it continuity and stability that it sometimes didn't have with earlier releases. Although Poser is not free, I think it's very good value for the money compared to other applications.